Meet Dr. Doug Broman
I became a chiropractor because I was enamored with the idea that the body can heal itself without the use of drugs or surgery."
A Phenomenal Education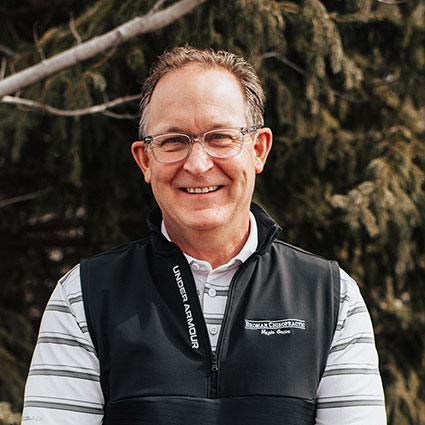 Motivated by his intense interest in natural healing, Dr. Broman attended Northwestern College of Chiropractic and received his chiropractic degree in 1986. He also received specialized training from the Spine Research Institute of San Diego in the treatment of whiplash injury. Dr. Broman additionally became certified in Active Release Technique (ART) in 1996.
Nearly three decades ago, Dr. Broman became registered in acupuncture by the Minnesota Board of Chiropractic Examiners. He's continued to expand his knowledge and expertise, most recently through a trip to Thailand to study with a renowned acupuncturist in that country.
"The cross between chiropractic and the innate intelligence of the nervous system, combined with acupuncture and the power of the meridian system, can create a stellar state of wellness. It's a thrill every day for me to help people achieve the goals of doing the things that they love to do. But I don't think people live to be adjusted … they get adjusted so they can live!"
EXPLORE OUR SERVICES »

A Love of Sports and Family
Dr. Broman is an avid outdoorsman and enjoys fishing, golfing and running. He and his wife Jeanie have lived in Maple Grove since 1987, where he opened his first practice. He's also active in his church and the local Maple Grove Rotary Club, as well as serving as President of the Minnesota Chiropractic Association.
Dr. Broman can help you achieve optimal health, too!
Contact us today for a convenient appointment!
---
Dr. Doug Broman | (763) 420-8595