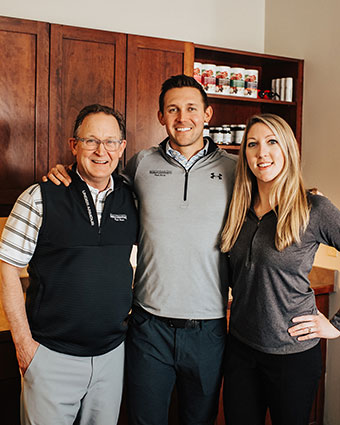 Broman Chiropractic & Wellness Center Reviews
What Our Maple Grove Patients Say
At Broman Chiropractic & Wellness Center we love when patients share with us their feedback and comments after chiropractic care. Please read our patient testimonials below to see what other people have achieved through their tailored treatment plans with us.
Share your stories too! Click here to send us your feedback so that we can help to spread the word about the benefits of natural Broman Chiropractic & Wellness Center care.
For more information, or to schedule an appointment contact us today.
---
Very Knowledgeable and Caring
This provider really took the time to get to know the whole picture before jumping to a plan. I was in shock to find relief and comfort in the adjustment. Very knowledgeable and caring provider and team.
-Kayla O.
So Glad I Reached Out
I was referred to this office by a friend and am so glad I reached out to my network for help. They got me in quite quickly. Dr Broman was appropriately cautious and got an X-ray before jumping in and adjusting me. Today we laid out a treatment plan and so feel like I know what to expect. It feels too soon, but I may even be experiencing some relief after my first adjustment.
-Lori C.
Would Highly Recommend To Anyone Who Is Looking For Chiropractic Care!
Paul Broman has done a wonderful job helping me after a car accident I was in. He talks me through the whole visit and what he is doing. Making sure I am doing ok and comfortable with the muscle work and adjustments. I am feeling as good as I can right now, but still more work to be done. Every staff member is very friendly from the moment you walk through the door!
-Kathryn K.
Everyone Was So Friendly and Kind
They took care of my from the moment I checked in to the goodbye when I left. I really appreciate the extra efforts of Dr. Doug Broman to explain the process and why this should be a path of health and not a quick fix.
-Janice A.
They Really Listened to My Concerns
I have tried chiropractic care before and it seemed as though they shuffle you in make a couple adjustments and shuffle you out. They didn't take time to really know where my pain is, what caused it, what helps it etc. All types of injuries were treated with the same adjustments and they just didn't work for me. I have been to Broman Chiropractic twice now and I feel like they really listened to my concerns and have implemented several different treatments that work together in reducing the source of my pain. I highly recommend their services.
-Tami H.
Welcoming and Informative
Welcoming staff, very informative, varied hours for an easier time to make appointments with my schedule. Explains and demonstrates exercises with patient teach back to make sure it is understood by the patient.
-Mary Jo H.
Significantly Improved My Back Issues
Dr. Doug was fantastic! It was my first time seeing a Chiro and receiving an adjustment and he made me feel so comfortable and significantly improved all of my back issues throughout our appointments.
-Maggie H.
---
Broman Chiropractic & Wellness Center Reviews | (763) 420-8595