Our Chiropractic Techniques
Broman Chiropractic & Wellness Center offers a unique blending of integrated health care, emphasizing chiropractic care, massage therapy and acupuncture.
Here are some of the specific techniques offered: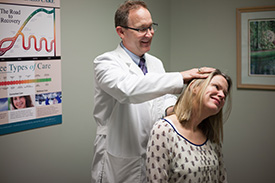 Activator Methods®
This is a system of spinal evaluation combined with a handheld adjusting instrument that delivers a consistent, low-force thrust. read more»
Active Release®
Athletic injuries and many muscle-related conditions respond quickly and permanently with this state-of-the-art soft tissue technique. read more»
Acupuncture
Clinic Director, Dr. Doug Broman has been registered in acupuncture by the Minnesota Board of Chiropractic Examiners for almost three decades. He continues to broaden his knowledge and clinical expertise through ongoing study, including a recent trip to Thailand to train with a renowned acupuncturist. He found this advanced study nothing short of compelling … and eagerly shares his expertise through both traditional and electronic acupuncture treatment.
Acupuncture is a great complement to chiropractic, and it's especially effective in chronic and difficult cases that haven't responded to more traditional methods of healing, including surgery. read more»
Exercise/Rehabilitation
Our custom designed exercise programs promote flexibility, strength and stability.
Cox Flexion-Distraction
We use a special table so we can traction your spine, opening up the spacing between spinal vertebrae and relieving pressure to spinal. read more»
Diversified
After identifying which vertebrae have lost their normal motion or position, a specific manual thrust is applied to free up "stuck" spinal joints. read more»
Kinesio Taping (KT)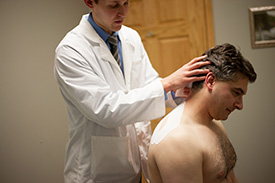 Kinesio Taping involves specific taping over and around muscles in order to assist and give support to a traumatized area. This support prevents over-contraction, while still allowing the muscles to maintain a full range of motion. This specialty helps adjustments to hold longer and helps patients to recover more quickly from injury.
Massage Therapy
Our office features two dedicated massage therapists, Pamela January and Rachel Roller.
Specific massage therapy is a great complement to chiropractic and features prominently in our unique integrative wellness perspective. read more»
Myofascial Release
This technique is particularly effective in addressing chronic muscle tension and scar tissue build-up from injury. read more»
Nutrition/Detoxification/Weight Management
Thompson
Thompson Terminal Point technique is a system of analysis and a special table that reduces the amount of energy needed to adjust your spine. read more»
Are Adjustments Uncomfortable?
We pride ourselves on the gentleness of our care, no matter what particular technique is being utilized. We always work with you to:
Optimize your comfort
Assess your exact needs
Honor your health and wellness goals
Don't allow nagging pain and impaired health to define your life any longer!
Call (763) 420-8595 to schedule an appointment.