Meet Dr. Paul Broman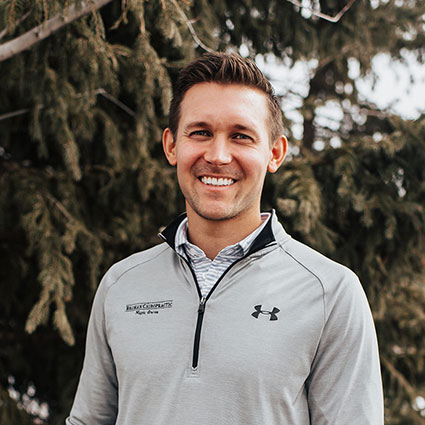 Dr. Paul Broman is a 2015 graduate of Northwestern Health Sciences University were he received his Doctorate of Chiropractic. Dr. Paul's passion as a chiropractor is to provide a greater level of wellness to the people in his community. His goal is to help his patients get out of pain, but also support them in living a life of optimal well-being through education and encouragement. He particularly enjoys treating young families and athletes.
Dr. Paul has attended seminars including the Certified Chiropractic Extremity Practitioner (CCEP), giving him the most recent knowledge and expertise in the treatment of extremities including shoulders, elbows, hips, knees etc. to assist him in providing first-class treatment of sports-related injuries. He has also received specialized training in neuromuscular dry needling. This technique is a great compliment to his chiropractic care; better equipping him to treat stubborn conditions such as tension headaches, plantar fasciitis and tennis elbow. Dr. Paul's goal in the treatment of athletes is simple – to maximize performance and minimize recovery time and risk of injury by assuring that the body is moving and functioning at its highest potential.
EXPLORE OUR SERVICES »

Outside the Office
Dr. Paul grew up in Minnesota and is a sports enthusiast, playing hockey, golf, football and soccer in high school. In his free time, he enjoys keeping active continuing to play golf, volleyball and hockey. He also enjoys the outdoors and getting up north to his family's lake cabin to fish and spend time with family. As he values the ability to pursue his passions, it is very important to Dr. Paul to connect with his patients and learn how best to work with them to pursue their passions and achieve their health and wellness goals.
We'd love to have you be a part of our dynamic chiropractic family! Contact Broman Chiropractic & Wellness Center today for a convenient appointment.
---
Dr. Paul Broman | (763) 420-8595